The COVID-19 pandemic of 2020 has affected the lifestyle of a lot of people. From students to seniors, from doctors to labor workers, from CEOs to stay-at-home moms, everyone needs to change the way they go through their days as well as the way they study and work everyday. We, people with active lifestyle, are not doing any different.
With gyms shutting down around the world, we learn to find ways to stay fit at home because we refuse to let the external conditions influence our fitness goals and wishes. Some of us have even come to realize that training at home is actually better than going to the gym in someway. So we'd rather train at home, unless we need to train for athletic purposes.
On the other hand, some of us are still confused; we don't know how to train at home because we're so used to the equipment at the gym.
Today I will giving you some tips on how to train at home and still achieve the results that you want.
Be ready to break the mental barrier
When we stay at home, we are in our comfort zone. And when we're comfortable, we don't feel like working. So most of the time, it's hard for us to start doing anything. Especially, this might be the first time you ever work out at home. This is the mental barrier you must first pass if you want to achieve that great body you always wanted. Nothing great comes from the comfort zone.
Be ready. Set yourself up so you'll be mentally ready to exercise. Put on your favorite gym clothes. Prep your favorite pre-workout meals. Whatever workout routine you used to do, just do it normally. Except this time, you'll be working out at home.
Have a clear, specific list of exercises
This is a big one.
You must have a list of exercises that you are going to do. Otherwise, you'll end up lost, confused, not really knowing what to do next. As a result, you can't track your progress and even worse, you won't be able to know what you have done that day. By having a list, it allows you to be accountable to yourself because you have to make sure to do every exercise in one session.
When making a list, you have to know what muscle groups you want to work on. You will also have to make sure the exercises work equally on body parts (you don't want to only work on your biceps, chest, and abs and totally ignore your legs for example). It all comes down to knowing what you're doing.
I will save the topic of how you can make a list of exercise for later. I will be showing you exactly what I have been doing and how I came up with a list. So stay tuned!
Schedule it - what's the routine like?
After making a clear list, you will make a schedule. Nothing helps better than some questions you can ask yourself.
How many days a week you're planning on working?
How many rest days? (2 days on and 1 day off? Or 3 days on and 2 days off?)
How much time should one session last?
How many times are you going to work per day?
How frequent do you want your cheat meals to be?
Get the nutrition and diet part right
It's easy to fall into a bad eating habit when you're at home. Just because you're at home, doesn't mean you can eat whatever you want.
Refrain yourself from instant gratifications. Eat right and train right, and you will achieve your goals. Because dieting is 80% of your gains/results.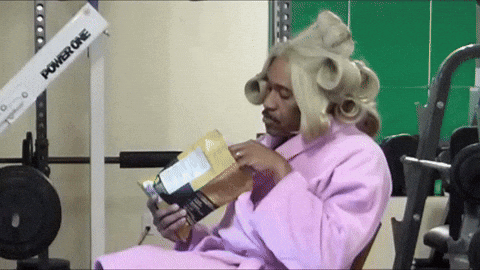 Work-life-gym balance
Don't forget to maintain balance between work, family, and gym. Don't put too much time on working out and neglect your family and your job. Same thing for other things in your life.
Just like how you used to go to the gym after or before working two jobs before COVID, do the same now. Balance is key!
Be in the flow state of mind
Once you have begun working out at home and you have built up some momentum, don't let it diminish. It's now important to be persistent and maintain the flow.
Remember, the key to achieving your fitness goals is persistence. Remember the schedule you have set up? Do you best to stick to that schedule. Just because you have so much time and freedom at home doesn't mean you can allow yourself to work out irregularly; it won't work.
It is also important to raise the standard little by little if you're planning on achieving even greater results. The overload principle states that you have to increase the intensity, duration, type, or time of a workout progressively in order to see improvements.
Here are some tips for successful muscle gains at home
Don't dress up in pyjama - It makes you feel lazy and your performance and gains will thus be limited. As they say, dress for success.
Focus - I know there are a lot of us out there who are extremely busy and they always want more time to work on their projects or business, myself included. As such, their work often distracts them from their workout. Trust me, focus on your workout, work will still be there when you're finished. Not only will this allow you to put 100% on your performance, but it will also save you time because you don't have to go back and forth between your home office and home gym.
Embrace setbacks and laziness - Life is not perfect. There will always be an event getting in our way and we will have to miss the gym and that will break your schedule and routine altogether. Or maybe we just feel lazy and don't feel like working. It's okay for those moments to happen. Don't feel bad nor punish yourself for it. Embrace it and move on. You can always resume your progress the next day.
A cheat meal once in a while - A cheat meal to celebrate a small victory is necessary. It helps incentivize you to stay on the game because it will feel less harsh. Remember to keep your workout journey an enjoyable experience. That's how you're able to keep moving on.
I really hope you got a lot values out of this article. Feel free to comment down below what you think and whether or not you enjoyed the content. Let me know so I will prepare better next time what you're looking for.
I post every Fridays. Share this article and follow this blog post or subscribe for our newsletter for more content like this.