A while ago, I wrote an article about how to set your own SMART fitness goal. If you're new here, I encourage you to check the article out here before continuing with this one.
Setting SMART goals is good. It helps us stayed focused because we now have a clear picture of our destination as well as a map of how we're going to get there.
But what if we get lost? What if we get discouraged? What if we don't feel like doing anything? What if we don't know whether it's the right way to go, and quitting seems like the best option? What if you miss your goal and now you're beating yourself up? These thoughts are what keep us procrastinate.
These feelings are going to come, no matter you like it or not. You can't control it, but what you do with it is what's more important.
Today, I'm going to help you overcome that doubtful thinking and show you what you can do right now to fight procrastination, to stay resilient, and to ultimately achieve your goal.
1. Do first, think later
This one seems odd and counter-intuitive, doesn't it? We've been taught to think clearly before doing anything. Although it's true, sometimes thinking too much or overthinking can lead to analysis paralysis.
We, humans, have a habit of analyzing before taking action to ensure safety and the best outcome, especially when the action is risky to our well-being. Executing a goal is risky because it takes us out of our comfort zone. So before we could find ourselves working on our goal, we're already thinking about it. And what we're thinking usually isn't how productive we're going to be, but rather how hard the work is going to be. And if we're thinking it's hard, we'd rather stay away from it.
So, it's best to just do it before we're overwhelmed with too much thoughts and end up procrastinating. Nike has the favorite motto "Just Do It" and the more I'm challenged by goal setting, the truer I find the motto.
2. Don't beat yourself up over some setbacks
In general, there are two ways people can learn. They can learn by either positive reinforcement or negative reinforcement. Positive reinforcement is when they are rewarded for doing something good. Negative reinforcement, on the other hand, is when they are punished for doing something bad.
For example, when you just did 100 push up and you feel so jacked; you feel good. That's positive reinforcement and it encourages you to keep doing it. On the other hand, negative reinforcement would be when your trainer scolds at you because they find out you were having a cheat meal. You then learn not to repeat the same mistake.
Although positive and negative reinforcement can help people learn, positive reinforcement is much better because it gives much more incentives to keep doing the good rather than avoiding the bad. Negative reinforcement could actually make us give up on what we're doing if the punishment is bad enough. In other words, we're more motivated to keep going if we know there are going to be rewards than if we know there isn't going to be punishment.
So, beating yourself up over a setback is a no-no when working on a goal. Instead, when you face a setback, embrace it, knowing that it's part of the journey, part of the change you're making in yourself. Let the sadness sink in a little bit, and quickly and gently let it go. Then move on to continue where you left off.
Feeling down is part of the goal setting process. There are going to be some days where you feel powerless and you feel like you can't go on. And it's okay.
The key is to not get sad over it for too long. You have to stay mentally strong and push through.
3. Celebrate small wins
One of the biggest mistakes people make when setting goal is not only not celebrating their small victories but they're also beating themselves up when encountering failure and setbacks.
It is very important to celebrate small victories. As we learned previously, positive reinforcement is much better than negative reinforcement. Rewards give us more reason to keep going than punishment does.
Best way to celebrate small wins is to acknowledge it, and treat yourself with something you love. You have to be careful not to destroy your progress while celebrating, though. For example, you can treat yourself a small cheat meal whenever you achieve a small goal, given that the cheat meal isn't too unhealthy.
If you can master this, the road to your bigger goals will be much easier. Remember, a big goal is not a large, steep mountain but rather a reasonable hill.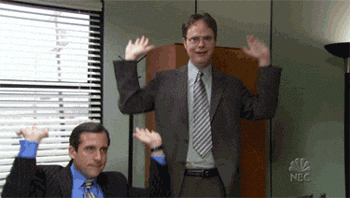 4. When procrastination kicks in, do this
You can't avoid procrastination. It's part of who we are. Procrastination is the body telling us not to change, because change is dangerous and takes us out of the comfort zone.
But we can't be complacent. We need change in order to grow. So how do we fight procrastination?
There's a simple psychological trick that you can apply to break through that mental barrier and thrive towards greatness.
Whenever you're about to start an intimidating task, tell yourself that you're going to do it for only a few minutes. The reason why you want to do this is trick your brain to get into the "flow state" by doing the task for a little bit. And a few minutes is enough time for the brain to do that. Once the brain is in the flow state, the momentum will build up quick enough to keep you going until the task is finished.
5. Get a workout buddy
If you struggle to be discipline and can't keep yourself accountable, sometimes it's because you're working by yourself. If you're by yourself, you're more prone to distraction and procrastination, since no one is watching you work.
So, one way to beat that is find someone you know to keep you accountable. It doesn't have to be a personal trainer. It can be your best friends or your family. Ideally, you want the person to have a similar goal as you, because then both of you can work together to your goals. If not, your friends can always keep you accountable.
The point is to keep yourself accountable. The best way to do that is to have someone watch you work. Otherwise, you'll most likely end up procrastinating. People can be more productive if they know someone is watching.
6. Don't focus on perfection
Another big mistake when setting goal: perfection.
The main purpose of goal setting is to help you make a change in order to achieve what you want. And goal setting includes small, baby steps leading towards the bigger ultimate goal. These steps don't have to be perfect, nor does the ultimate goal.
Remember, no one is perfect. Not even Arnold. The most successful people in the world went through many years, if not decades, of imperfection and unsuccessfulness, just to have that one successful year for their names to be heard.
Focus on what you can do right now and always do your best, no matter if it's perfect or not.
7. Don't believe in quick fixes
You might be tempted by people who claim that their advice or products can help you cut waist and burn fat fast. Don't fall for that. There's no such thing.
However long it takes you to lose weight is how long it's going to take you to regain the weight you've lost. If something comes quick, it also leaves quick. Success is built over a long period of time. If success comes fast, it tends to not stay for long. So, stay persistent and stick to your goal. Set small goals and achieve them one by one. You're in the game to maintain a healthy lifestyle for the long run.
There you have it. 7 ways to stop procrastinating and most of them are applied on the psychological level. Apply these fixes to your daily life and you will your results improved dramatically.
Feel free to comment down below what you think and whether or not you enjoyed the content. Let me know so I will prepare better next time what you're looking for.
I post every Fridays. Share this article and follow this blog post or subscribe for our newsletter for more content like this.