You know that you are supposed to set goals for anything you want to achieve in life, one of which is fitness. Goal setting helps keep you on the right track and measure your progress.
So, you know the why. But a lot of you don't know the how.
How do you set goals? Where do I start? What are my goals? What are SMART goals?
Don't worry. Today, I will guide you on setting goals. This guide is not only for your fitness. But later on in life, when you need to set goals for your business, relationship, profession, studying, you can use this guide to help you as well.
Let's get started.
Why set goals?
First, let's discuss the importance of setting goals.
Most people don't have the right approach to anything they want to do in life. They tend to have vague, unclear goals. And that usually results in failures.
Think of setting goals is like making a grocery check list. You have a goal, and that is to purchase the items you need for dinner. You make a list of all those items and tick them off one by one as you buy them in the grocery store. If you don't have a list, how are you going to get what you need? As such, it is very important to have a goal to thrive towards.
Here are some benefits of setting goals.
You keep yourself accountable - Psychologically, by setting goals, you always feel like you need to achieve it. Otherwise, you feel uncomfortable. You hate to not being able to keep your words so your only choice is to achieve it.
You are able to see the big picture as well as the steps towards it - If you don't know or can't see where you're headed, you will never reach the destination. So, setting goals allows you to see the clear path to achieving what you want. Without a clear goal, you would be wandering lost and ending up nowhere.
You are able to measure and keep track of your progress - Setting goals allows you to see whether you're moving any further or you're still stuck at one place.
How to set goals?
We now know the why, let's move on to the how.
Most of us weren't taught how to set goals in school. That's why, when we want to achieve something, we tend to have very vague ones or none at all. So let's talk about how to set crystal clear SMART goals.
SMART goals are typically short- to mid-term. So, we will be looking at a three to twelve month period when setting goals. As for how to set long term goals, it will be another topic for another time, so stay tuned!
SMART stands for specific, measurable, achievable, relevant/realistic, and timely.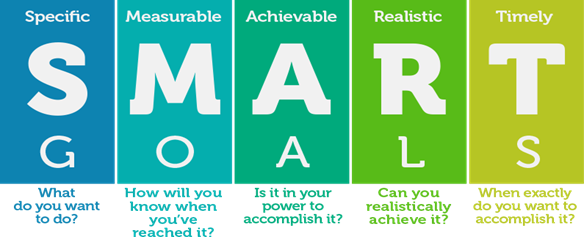 1. S - Specific
"Find your WHY, and you'll find your WAY" - John C. Maxwell
First off, you need to know what you want to achieve and why you want to achieve it. This part is the hardest part. You need to know the exact answers to the following questions.
What are you trying to achieve?
Why is it important to you? How is achieving it making a difference?
How long are you going to do it for? (More on this later.)
Who is going to be involved? (Are you doing it alone or with a partner?)
Where are you going to do it? (This can be left blank if it's not applicable or unnecessary.)
Let's say you're in boxing and you want to increase your performance in general. Right off the bat, it's too vague. There are a lot of factors that lead to better performance. Speed is one of them, so let's take it as an example.
You want to increase your speed in boxing. Why do you want to increase your speed? Better performance is not strong enough as a reason. Maybe you want to increase speed because it allows you to attack the opponent faster or to defend better. Whatever it is, dig deeper until it makes you emotional.
Now, you know your what and why and how it makes a difference. You may want to consider getting a boxing partner or a trainer/coach/mentor to help you practice. Or you can go all solo.
Where are you going to practice? At home? At the gym? On a basketball court? This is what you need to figure all out before moving on.
2. M - Measurable
Is your goal measurable? Meaning, does there exist a parameter or a factor that lets you know whether or not you've reached your goal?
Let's take the previous example. You want to improve speed. But how do you know you've improved?
For instance, you can use a timer and time yourself and see how long it takes to throw 10 jabs in a row. If you see the time it takes for you to throw 10 jabs is reducing consistently over time, you know you've improved.
3. A - Achievable/Attainable
Is your goal achievable?
You don't want to set your goal something like, "I want to box as fast as Muhammad Ali." That is way out of your capability right now.
I'm not saying you're not going to be the next Muhammad Ali. I'm saying that although that is a good long-term goal for you to aim towards, it is better to set smaller goals for smaller steps that will lead you there eventually. An ideal goal is, "I want to throw 10 jabs in 3 seconds."
On the other hand, you don't want to set your goal too easy to accomplish. That will not help you improve. Remember, no pain, no gain.
Keep in mind that shorter time allowed to reach the goal also increases the difficulty of the goal.
So keep your goals achievable and a little bit challenging (if you're a bit scared when you think of it, it's even better).
4. R - Realistic/Relevant
Is what you're aiming towards relevant to what you're doing or to what you want to achieve in the long run? Does your goal sound more like out of fiction movies than in real life?
5. T - Timely
Your goal needs a deadline, otherwise, it is going to take you forever to achieve. Parkinson's law states that the work will expand to fill the time available to finish. This is the reason why people procrastinate. It's the reason why students cram study just one or two days before exams and the reason why young people tend to think that they have a lot of time on their hands. They either don't have a deadline or the deadline is too far in the future they don't want to do it right now.
This is a perfect example. I am writing this piece on Thursday night. The deadline to publish it is tomorrow by Friday morning. I had a whole week to plan and write, but due to some family stuff, I had little time this week to work on it. So, when I started working today, I still had so much to write. But, with a sense of urgency and a focused mind, I'm finished a few hours before midnight. The fact that I have a deadline pushes me to finish the article.
So, you need a deadline to reach your goal. Three or six months is an ideal period for short-term SMART goals, though it could be up to one year.
Finally, let's put them all together. We come up with a statement that has all these elements that we just discuss. An ideal statement would look something like this.
"I want to throw 10 jabs within 3 seconds by the end of October."
Is it measurable? With a timer, yes.
Is it achievable? Yes, it seems to be within my capability.
Is it realistic and relevant? This will help improve my speed and performance on the ring, so yes.
Is there a deadline? Yes, I want to become faster within this month of October.
Is it specific? Yes.
There you have it, this is how you set SMART goals that will help you move further and further on your journey. There are a lot of questions involved but the clearer the answers for those questions, the more likely you're going to achieve the goal.
Implement the same method of setting goals for everything you want to achieve in life, and you're guaranteed to make it, whether it's your career, relationship, or business.
I post every Fridays. Share this article and follow this blog post or subscribe for our newsletter for more content like this.