Ever get bored of your exercise routine? Ever wonder why you're not getting a lot of gains from your workout?
What I'm about to show you are 5 subtle modifications that are going to make your abs exercises not only more effective in giving you those gains but also more interesting to do. Note that these modifications, by all means, will make the exercises a little bit harder to do. But if you're the type of person who loves new challenges and is always looking to better themselves, then you cannot miss out on these.
I will also be rating on the scale of 5, with 5 being the hardest, how much harder each modified version is compared to its original version, based on my experience, so you will know what to expect.
1. The low-leg Russian twist
If you don't already know how to do a normal Russian twist, here's a step-by-step guide. For those who already know, did you know that you can even further strengthen your core if you do this simple trick.
Usually, when we do the normal Russian twist, we bend our legs to stabilize. But if you want to take a step further, straighten your legs. By doing this, you will naturally lean back a bit to maintain balance, which actually activates your core even better.
I would rate this version difficulty of 4.5/5. It'll be quite hard at first, especially if you're a beginner. You core will hurt more, your thighs will also be more engaged, and you will barely maintain your balance. But the result will be worth it.
You can also lower your legs to engage the core more. The lower you go, the more engaged the core is, the better. Try it!
2. Hand-free leg raises
When we do leg raises, we usually either put our hands under our butt or hold on to a bar as an anchor point. What if we don't use our hands at all?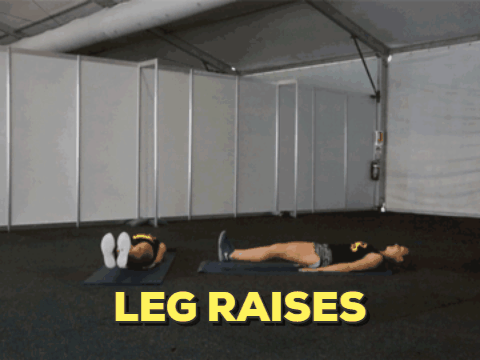 Instead of using our hands for any purposes for leg raises, just let them rest on your chest or stomach. That's why it's called hand-free.
It will make you lose your balance at first, but your core will compensate that by being more engaged to hold you body steady, thus, making it stronger. I rate this modification 3.5/5.
Sometimes, we just have to sacrifice the good to achieve the great.
3. Plank walk-out
Just like a plank, but with a little bit of moving.
Start by doing a normal plank, then start walking forward or backward on your elbows and toes inch by inch. Remember to move very little, literally inch by inch, because if you move out too far, your lower back can hurt. You can also walk sideways, which is a more traditional way.
By walking out while doing plank, your core muscle will be engaged in every angle because it's now in a dynamic movement. This exercise will also strengthen the core even more than the regular plank because the core has to keep maintaining the balance of the body as you walk plus the pressure it's already subjected to when you're in the plank position.
I rate this one 4/5 since it requires a considerable amount of tenacity and strength to perform it properly.
4. Rolling plank step-up
If you try to look this up on the internet, you probably won't be able to find and you probably haven't heard or seen any big fitness influencers out there do this. This is what I came up with because I think it's more convenient to do and also engages your core better if you do it this way.
Here's how I encourage you do instead.
Usually, after completing one round of plank step-up (one round being stepping down and stepping up again), you continue with the arm you first step down with and then switch side once you're half way through your set. Instead of doing that, you step down with the same arm you just step up with, and repeat the whole process over again until you've completed your set.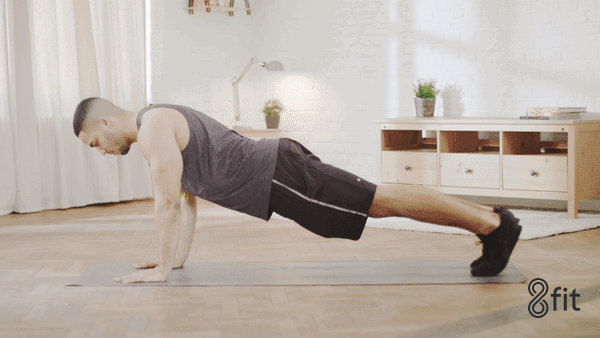 For example, if you step up with the right arm, you then step down with the right arm. If you want to go even more advanced, you can hold your body in the air for a moment by quickly tapping your right hand on the ground instead of a full step up.
I found two benefits of doing plank step up this way.
Since you step down with the same arm you just step up, your body will be imbalance for a short period of time; very prone to falling just like a three-legged table. Your core, then, will have to be more engaged to hold you body balanced.
You're constantly switching side by doing this, meaning you will have worked roughly the same amount on both sides at the end of the set. Just work all the way through; you don't have to wait until half way through to start switching side, which saves some mental energy.
As for the rating, I rate it 3/5.
5. Reach the moon (advanced leg raises)
Start by lying down flat on the ground. Then start raising you legs up as if you're doing leg raises (remember to keep both legs straight). When your legs are at the top, lift your butt off the ground and try to reach as high as you can with your legs. Also, keep in mind to use your hands as a support. Otherwise, it will be hard to lift your butt and your form will be out of shape and the exercise won't be effective as a result.
You can just keep your legs up and don't have to put them back down and raise them back up and do everything all over again (even though that's an option if you want to go extra advanced).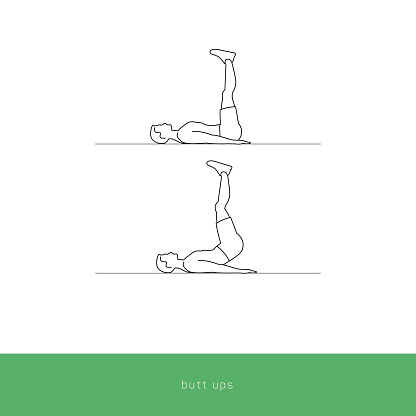 One thing people do when they're doing this exercise is they tend to raise their legs way over their hips line and very close to their head.
To me, that's not necessary.
Doing that doesn't engage your core any much more, but it costs more effort and especially time. For this type of exercise, you will want to do it in circuit style, which is multiple exercises combined in one round with each one you do for a certain short period of time (more on this for a later post). And this is why the volume or how many reps you can do is important. You will want to do it as many reps as possible in a short period of time, let's say 30 seconds. And the more time it takes to do one rep, the less reps you can do in 30 seconds, and the result is not much better.
For this reason, I'd rather keep my legs straight and at 90 degrees with the ground.
I rate this exercise 2/5.
You can call this exercise butt-up as an alternative name. I don't like that name for this exercise but I couldn't come up with a better name. So don't laugh!
---
There you have it, 5 subtle modifications to make your abs exercise more challenging and more effective.
This was based on the progressive overload principle in fitness. It says if you want to become better, you have be willing to exceed your limits. It means we're leveraging our own "survival mechanism". We remove something that makes our life safe so our survival instinct will kick in. And usually, it will make our body stronger and better to adapt. That's why there's the saying "What doesn't kill you makes you stronger".
Feel free to comment down below what you think and whether or not you enjoyed the content. Let me know so I will prepare better next time what you're looking for.
I post every Fridays. Share this article and follow this blog post or subscribe for our newsletter for more content like this.